10.26 BROKERS PARTY
2018.10.24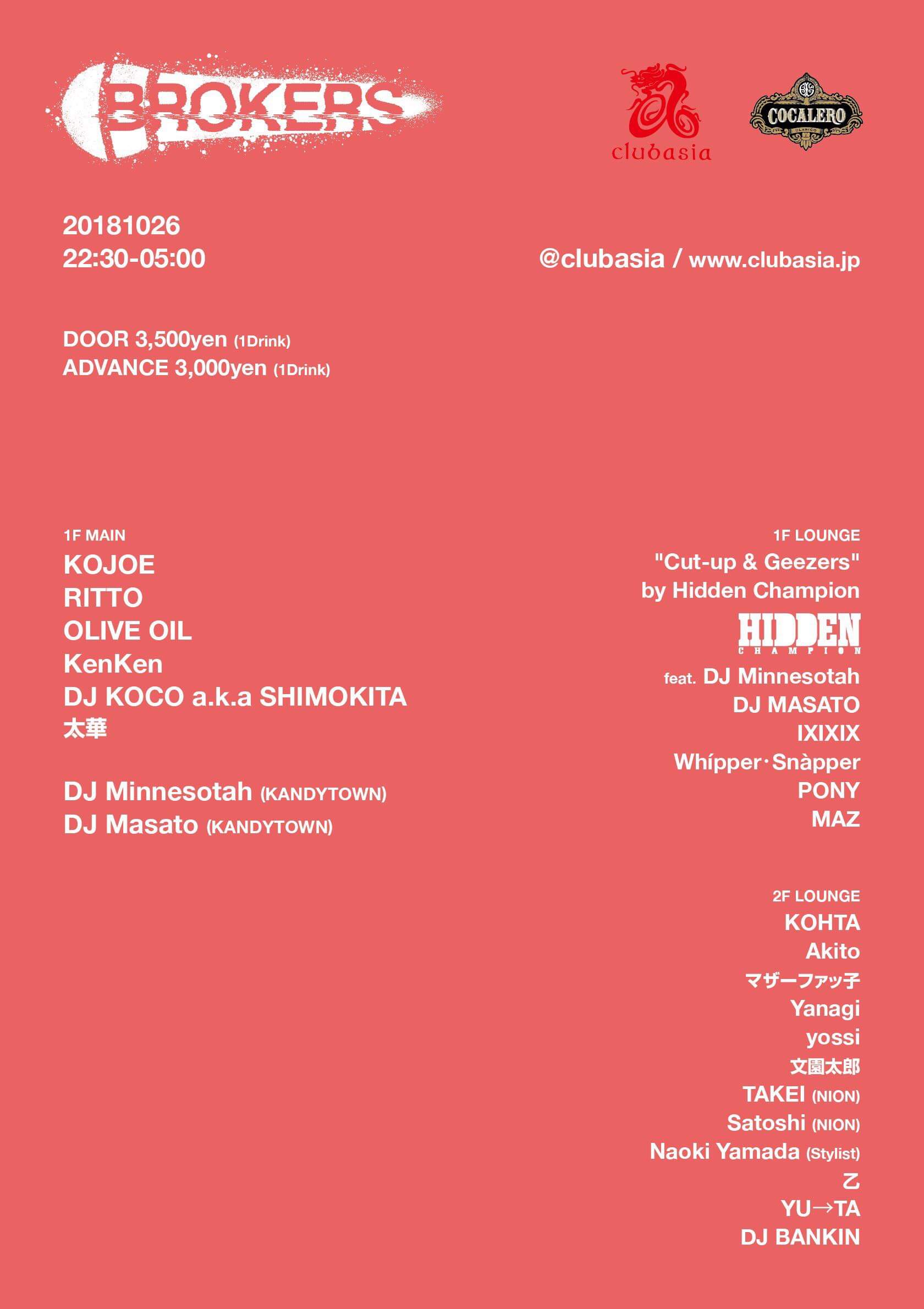 2018.10.26 BROKERS @clubasia
Get connected with people in street culture scene.

1F MAIN

KOJOE
RITTO
OLIVE OIL
KenKen
DJ KOCO a.k.a SHIMOKITA
太華
DJ Minnesotah (KANDYTOWN)
DJ Masato (KANDYTOWN)

1F LOUNGE

"Cut-up & Geezers"
by Hidden Champion
feat. DJ Minnesotah
DJ MASATO
IXIXIX
Whipper・Snapper
PONY
MAZ

2F LOUNGE

KOHTA
Akito
マザーファッ子
Yanagi
yossi
文園太郎
TAKEI (NION)
Satoshi (NION)
Naoki Yamada (Stylist)
乙
YU→TA
DJ BANKIN

— FEE 2,000YEN per TICKET Sold in a set of 10 Tickets. –

— VIP FLOOR *Only ticket holders via this flyer.
On this floor, you can meet artists and key people to get fresh & real insights into street culture.
Kazuma Kitada(director / TOKYO) will talk about behind the scenes of KOJOE's latest MV, along with others influential artists who will provide invaluable insights into the the latest goings on in the scene.

HOST: BROKERS
"BROKERS" is a casting unit formed by human beatboxer 太華 and MIHO(TOKYO) to provide a bridge between street culture and the advertising industry.
Clients include, coca-cola, Google, Suntory, Meiji, LINE, Pepsi, Dickies, Band-aid and more.
>>> check out 太華's interview here:
https://dentsu-ho.com/articles/5099

Please contact (miho(at)lab.tokyo.jp) or Text miho (Facebook or other SNS).